Christmas Project 2020: the 12 Items of Christmas

Helping and Healing Hearts, Johnston County is an organization of volunteers faithfully committed to provide services, support, and food to the under-served in hopeful order to bring about change in their lives and in their communities. (learn more about them here: recently featured on WRAL News Tarheel Traveler)

We were honored to partner with Helping and Healing Hearts and the '12 Items of Christmas' was an opportunity for each of us, individuals and families, to create a basket of the 12 most requested items of these precious lives that are in need. We encouraged our clients to join us as we made our baskets over a 12 day period - adding one item a day - until the basket was full!

In all - because of you - we are able to donate more than 2 dozen baskets and $400 to support Helping and Healing Hearts mission and vision!


December 2019: Our 2019 Christmas Project
According to the National Institute of Mental Health, aging seniors who are socially isolated are at higher risk for depression, especially during the holidays. While aging can bring wisdom and experience, there are inevitable losses that even the healthiest of seniors face - energy and mobility levels often decrease, resulting in feelings of lost independence and opportunities, loneliness and in some cases abandonment. We've seen that loneliness that too many of our senior community experience. So, instead of a adopting a family for Christmas – Raleigh Community Animal Hospital adopted a Village. Independence Village of Olde Raleigh offers independent and assisted living services to our senior community. What is even more exciting is that Independence Village recognizes the joy and companionship that pets bring and thus, we partnered with them to provide veterinary care to the pets living at the Village. There are a host of pets within that have medical needs and these seniors desperately want to provide such but their funds are often too minuscule to accommodate. Because of your generous donations, Dr. Foca and Phen, our Practice Manager, got to play Santa Claus to the residents at Independence Village! Beyond the donated goods, almost $1000 - which RCAH matched - was donated as well which will provide veterinary care to countless pets that reside in the Village. Thank you so much for everyone who helped us give the people at the Village a wonderful Christmas! Click here to learn a little more.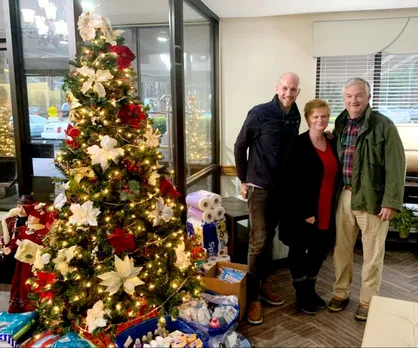 ---
July 2019: Our Annual Dog Days of Summer Celebration Every year we celebrate our anniversary with summer fun. We had a doggie water park, homemade pup-sicles and lots of love for all our canine attendees; and a waterslide, raffles and lots of snacks and games for their human companions. Both Alley Cats and Angels and HOPE Animal Rescue had tables of goodies and raised lots of money for the animals they support.
---
March 2018: Points of Light Volunteer Event
On Sunday, March 25, over 40 people showed up to help stuff catnip toys, put together adoption information packages and adoption goody bags, supporting and benefiting Alley Cats and Angels.
We accomplished the following:
- approximately 175 adoption information handout packages were put together
- two large bins of adoption goody bags, plus one small bin
- ten bins of catnip toys stuffed (squares, fat kickers, mini kickers and soft bell kickers)
A very big thank you to everyone that came out to help. It is greatly appreciated and we got so much done!
---
May 2017: We Went to the Zoo
On May 17th we had the delightful honor of volunteering at the Aloha Safari Zoo in Cameron, NC. Phen and Sam were instrumental in building a relationship with the zoo prior to our team visit; and upon our arrival the entire RCAH Leadership Team was greeted with open arms. As you can see from the photos, we were honored to be able to use our skills as veterinary professionals on animals we don't see in a small animal practice setting! From shearing alpacas and llamas to annual exams on arctic foxes and wolves, mixed with a pinch of wonder and excitement -- 'twas a truly grand experience for the RCAH Team. We have the highest of hopes and intentions to continue and broaden our relationship with the Aloha Zoo and we encourage you to learn more about their amazing rescue efforts by either making the short drive to Cameron to see them in person or visit their website (www.alohasafarizoo.org).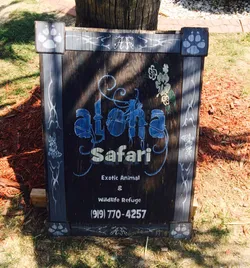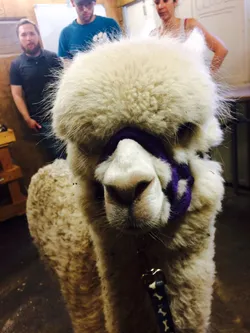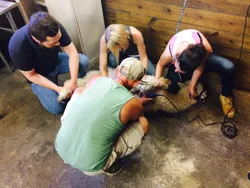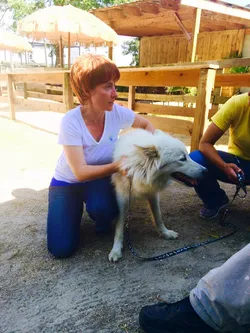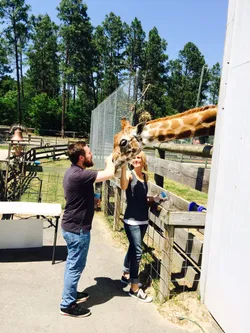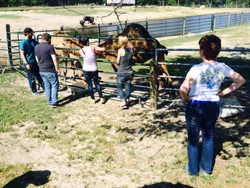 ---
March 2017: Leash Manners 101 Workshop
With the expert guidance provided by the trainers of Topline-K9-Solutions and hosted here at the Raleigh Community Animal Hospital, all attendees gained the knowledge and the confidence to enjoy a relaxing stroll around the block, in the pet-store or to the vet's office.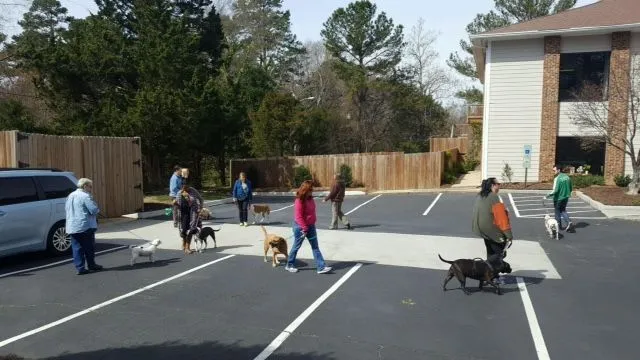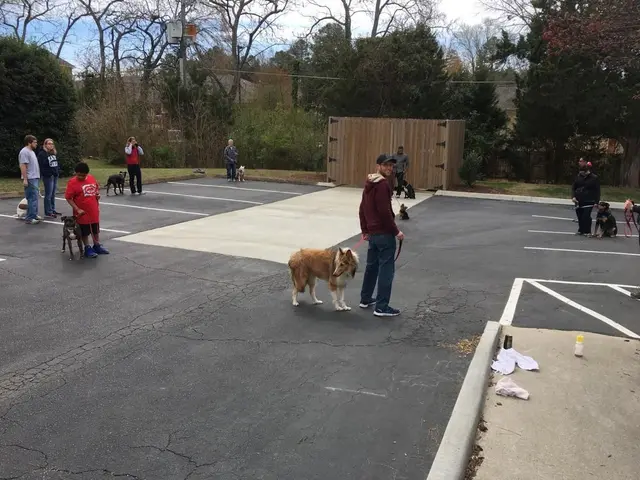 ---
September 2016
We took our love for dogs on a field trip! Dogs Deserve Better is located in Smithfield, VA, on the property that was once the home of the Bad Newz Kennels, the dog fighting compound owned by Michael Vick; since transformed into the Good Newz Rehabilitation Center for abused and neglected canines.
Phen, who is intimately involved with the efforts of DDB, took a road-trip with members of our team to volunteer and share the experience of who and what DDB exemplifies. Words fail at the magnitude of emotions that encompass walking through those gates, standing before the 'memory-tree' and running your fingertips across the paw prints embedded on that fateful-fighting floor; however, the joy of what those grounds are today is overwhelming.
This is more than a job to us here at RCAH. This is a passion that swells into our souls and gives us a vision for animals beyond our hospital doors -- even it involves digging holes, building fences and sweating through the summer heat to corral a wandering puppy.
To learn more about DDB, please visit: https://dogsdeservebetter.org/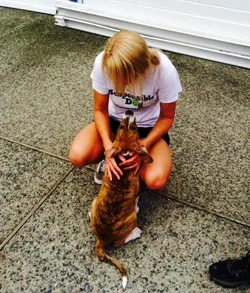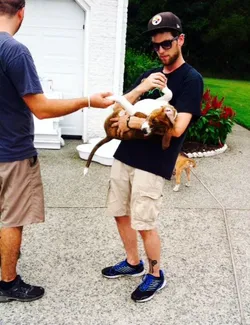 ---
December 2015

Over six weeks, we cast a passionate vision of making a difference in the precious lives of two families for the Holiday Season; yet what we received was beyond measure.
It started with a simple mention from one of our team members: "let's adopt a family for Christmas" and what transpired was a community coming together and gift-wrapping their arms of love and encouragement around us and these families. Donations of toys and groceries and clothing; words of encouragement through visits and phone calls and emails flooded in with appreciation and willingness; and with that simple mention, what culminated was this:
---
November 2015

The generosity of our RCAH family was overwhelming. We provided a trunk full of food at Thanksgiving to two families. This was followed by Christmas gifts for the entire families (right down to new shoes for Mom) and Christmas dinners.
The generous monetary donations allowed us to give $425 to Raleigh Rescue Mission. The timing was perfect as they had a matching grant program that enabled our contribution to soar to $850.
---
August 2015

As summer winds down, thoughts go to the start of the school year. For most children this is a time of anticipation and excitement; the process of shopping for new clothes, the almost holiday-like feel of the stores and the decisions about which school supplies to pick out. But for many children it is a time of worry and trepidation. How does it look when they show up at school with no backpack or shiny new pencil case? We used August's Community Connection to collect backpacks and school supplies that were donated to the children served by the Raleigh Rescue Mission.
---
June 2015
In celebration of National Safety Month, we take June to honor the first responders in our community. Firemen/women, paramedics and EMS workers are eligible for a 10% discount in all services. We enjoyed seeing everyone at our Safety Event and first aid workshop June 28!
---
May 2015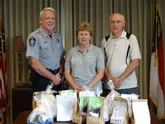 We were thrilled to honor local law enforcement officers throughout the month of May. We collected $100 in donations from gift basket raffles at our grand opening event for the Raleigh Police Memorial Fund. In addition to hosting a K-9 unit from Wake County Sheriff's Dept., we delivered 50 care packages directly to Sheriff Donnie Harrison. With toys, frisbees and treats for the canine LEO's and special treats for the two legged ones, we hope they know how much we appreciate them!